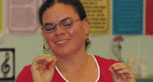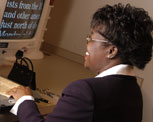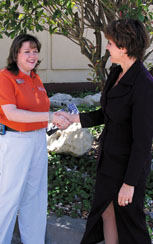 This glossary listing has been prepared to reflect meaningful terms, titles, contractions, acronyms and definitions that have a general usage within the daily conduct of business by National Industries for the Blind and its associated agencies. Many of these terms are not defined in any standard dictionary, as they may be technical or specialized in the particular area involved (i.e., government procurement, pricing, quality, specifications, manufacturing production tasks, rehabilitation, etc.).
We believe that through consistent use of these terms or phrases, better lines of communication and understanding will be achieved by all NIB employees. If you have recommendations for additional terms to be added to this glossary, or suggested edits to current terms, please e-mail Beth Scott at escott@nib.org.
A B C D E F G H I J K L M N O P Q R S T U V W X Y Z
A-76 – Office of Management and Budget Circular 76 referring to privatization of current government activity.
AAFES – Army & Air Force Exchange Service
ABSTRACT – Procurement form used to record bid or proposal evaluation information.
ACCELERATION OF DELIVERY – Early delivery of supply items authorized by Contracting Officer; must be in writing.
ACCEPTANCE – The act of an authorized representative of the federal government assuming ownership of certain supplies as partial or complete performance of a contract.
ACB – American Council of the Blind
ACC – Air Combat Command
ACCREDITATION – Certification by a duly recognized body of the facilities, capability, objectivity, competence, and integrity of an agency, service or operational group or individual to provide the specific service(s) or operation(s) needed.
ACO – Administrative Contracting Officer
ACT – Legislation passed by both chambers of Congress and signed by the President of the United States.
ADA – Americans with Disabilities Act
Addition Package – A set of documents provided to the Committee for Purchase staff to have a product, service, Base Supply Center, or Military Resale item added to the government Procurement List.
Administrative JDA – The Javits-Wagner-O'Day Development Support Administrator.
ADMINISTRATIVE LEAD TIME – The phase in the procurement cycle consisting of the time interval between the dates of the supply control study to the award of a contract to a vendor.
Address Activity Code – Allows vendors to purchase goods from the General Services Administration (GSA) or the Department of Defense. Number is provided by GSA.
ADVENTITIOUS BLINDNESS – A state of blindness that results from a trauma, accident or disease and affects a person who has had sighted experience.
ADPE – Automatic Data Processing Equipment
AER – Association for Education and Rehabilitation of the Blind and Visually Impaired.
AFB – Air Force Base
AFB – American Foundation for the Blind
AFCOMS – Air Force Commissary Service
AFFIRMATIVE ACTION PROGRAM – Positive action steps to overcome the effects of past discrimination. Most commonly related to the employment of people who are disabled by government agencies and contractors.
AFLC – Air Force Logistics Command
ALA – American Logistics Association
ALL – Acceptable Laboratory List (issued by the Defense Personnel Support Center)
ALL – Affiliated Leadership League of and for the Blind of America
ALLOCATIONS – One of the methods by which NIB makes an equitable distribution of orders from the federal government to its associated agencies.
AGENCY Allocation – The percentage of a customer's requirement made by a specific NIB Agency.
ALTERATIONS IN CONTRACT – Changes made in a contract after it is originally issued.
AMC – Army Materiel Command
AMENDMENT – May apply to change made in an invitation for bid (IFB), contract, specification of purchase description, a bill or law.
ANSI – American National Standards Institute. Not a Standards-writing body, but rather ensures that member organizations which do write standards follow rules of consensus and broad participation by interested parties. ANSI is the U.S. member of ISO.
ASQC – American Society for Quality Control. A professional, non-profit association that develops, promotes, and applies quality-related information and technology to private and public sector organizations.
APC – Annual Price Change
APPROPRIATIONS – Refers to the designation of funds for a specific governmental expenditure. A governmental program needs enabling legislation: creating the program and usually annual appropriations to fund it.
AQL – Acceptable Quality Level
ARB – Air Force Reserve Base
ARO – After Receipt of Order
ARN – Apparel Research Network. The objective of ARN, a Defense Logistics Agency program, is to significantly improve the U.S. apparel industry's ability to meet DoD requirements through research, development and technology transfer for the apparel and related industries such as distribution, equipment, and materials suppliers.
ASL – Acceptable Supplier List (issued yearly by DPSC).
ASPPO – Armed Services Production Planning Officer
Assignment (agency) – The authorization NIB gives to an associated agency to develop a product, service, Base Supply Center, or Military Resale item. Agency assignments are for six month terms.
Assignment (CAN) – The authorization the Committee gives to NIB or NISH to develop a product, service, or Base Supply Center. CAN assignments are for two year terms.
Assignment Expiration Date – The date by which an NIB associated agency must demonstrate progress in order to retain an assignment. All assignments expire on the last day of the month.
ASSOCIATED AGENCY – A nonprofit organization that is associated with NIB and employs people who are blind.
AT (Adaptive Technology) – Specialized equipment that enables people who are blind or disabled to use technology (i.e., JAWS, Magic etc., which reads and converts data into voice).
AUDITOR – Person qualified to conduct quality system audits. In the International Organization of Standardization (ISO) system, auditors work for organizations called registrars.
AUTHORIZATION – Basic legislation to establish or continue the legal operation of a federal program or agency.
Authorized JWOD Distributor – An organization authorized by the Committee for Purchase From People Who Are Blind or Severely Disabled to stock and distribute Javits-Wagner-O'Day (JWOD) products. To receive authorization, the commercial organization must agree to certain terms and conditions established by the Committee in its procedures, including the requirements to eliminate essentially the same (ETS) items from its product offering, and to block the sale of ETS items and substitute the JWOD item.
AVAILABILITY – The capacity of an item to perform its designated function when required for use.
Award – An announcement by the federal government regarding the vendor selected for a specific solicitation.
BASE DATE – The date on which the base price was established. It is the beginning of the period for which inflation factors are applied.
Bar code – Precise arrangement of parallel lines (bars) and spaces that vary in width to represent data.
BASE PRICE – The price established by the Committee for a product or service, excluding any inflation factors.
BENCHMARKING – An improvement process that a company uses to measure its performance, strategies, operations, processes, and procedures against other companies considered to be the best.
BIA – Bindery Industry Association
BID – A formal offer against an invitation for bid (IFB) under sealed bidding procedures.
BIDDER – A person or organization that responds to an invitation for bid (IFB).
BIDDERS MAILING LIST – A list maintained by federal government procurement offices of organizations that are capable of supplying products and services purchased by that office.
BID OPENING – A public opening of bids that were received prior to the time and date of the scheduled opening.
BID SAMPLE – Required by the invitation for bid (IFB) to show the characteristics of the product offered in a bid.
BILL – Legislative proposal designed by Senate.
BILL OF LADING – The written acknowledgment of the receipt of goods for movement by the carrier and the contract for the movement.
BILL OF MATERIALS – A listing of all materials, components, and packaging, and their usage, that go into the manufacture of an item.
BLIND MADE – Quality products or commodities produced by any qualified nonprofit agency for the blind. Must be organized under the laws of the United States or any state, operated in the interest of the blind individuals (see Public Law 92-28 and Committee Rules). This term is no longer used by NIB. It is now, "Quality Products Made by People Who are Blind."
BLINDNESS (LEGAL) – Central visual acuity which does not exceed 20/200 in the better eye with correcting lenses or visual acuity. A person is also consider legally blind If vision is better than 20/200, accompanied by a limit to the field of vision in the better eye to such a degree that its widest diameter subtends an angle no better than 20 degrees.
BSC – Base Supply Center
BPA –Blanket Purchasing Agreement
BRAND NAME (OR EQUAL) – A commercial product described by brand name, make, or model. A contractor may bid on the item described, or may offer another product equal or better in all characteristics.
BSI – British Standards Institute. British standards-writing organization.
BUY AMERICAN ACT – Law that imposes restrictions on the procurement of foreign supplies and construction materials.
BVA – Blinded Veterans Association
BX – Military Base Exchange (usually Navy or Air Force)
CA – Cost Analysis
CALIBRATION – Comparison of two instruments or measuring devices, one of which is a standard of known accuracy, traceable to national standards, to detect, correlate, report, or eliminate by adjustment any discrepancy in accuracy of the instrument or measuring device being compared with the standard.
CATALOG PRICE – The established or printed price cited in a supplier's or manufacturer's catalog.
CBL – Commercial Bill of Lading
CE MARK – The mark of approval issued by European notional approving bodies. The mark indicates that a company conforms to all applicable directives and standards.
CERTIFICATE OF COMPLIANCE – A document signed by an authorized party affirming that the supplier of a product or service has met the requirements of relevant specifications, contract, or regulation.
CERTIFICATE OF CONFORMANCE (CERTIFICATE OF CONFORMITY) – A document signed by an authorized party affirming that a product or services have met the requirements of the relevant specifications, contract or regulation.
CERTIFIED – When a quality audit finds that a company, or a single plant or location within that company, conforms to the ISO 9000 standards, the company or lactation will be certified. Means the same as registered.
CERTIFICATED WAGE RATE – Determined by the Department of Labor, this is the minimum amount of hourly pay an employee can receive while employed by organizations such as NIB associated agencies.
CERTIFICATION – The procedure and action by a duly authorized body of determining, verifying, and attesting in writing to the qualifications of personnel, process, procedures, or items in accordance with applicable requirements.
CFM – Contractor Furnished Material
CHANGE ORDER – A document that describes a change ordered by a Contracting Officer that comes within the general scope of the contract.
CHANGE CLAUSE – Allows the federal government to alter the work to be performed under a contract.
CHARACTERISTIC – A physical, chemical, visual, functional, or any other identifiable property of a product of material.
Check Digit – Digit calculated from the other digits of an Element String, used to check that the data has been correctly composed.
CICA – Competition in Contracting Act
CID – Commercial Item Description
CLAUSE – A term or condition used in contracts or in both solicitations and contracts that may apply to both before and after a contract award. May pertain to subjects such as changes, payments, inspection, etc.
CLEAR THE ITEM – The waiver granted by NIB when it does not exercise its priority for the blind on a NISH nominated item.
CLIENT – A person who is receiving unpaid rehabilitation or social service, or a person receiving services in a Work Activities Center.
CNA – Central Nonprofit Agency
COB – Close of Business
COM 401 – Committee Form #401 – Initial Certification
COM 403 – Committee Form #403 – Annual Certification
COMMENSURATE WAGE RATE – The wage rate paid by an NIB associated agency for a particular operation, which is based directly on the wage rate paid by industry for the same or similar work in the geographic region.
COMMERCE BUSINESS DAILY – A Department of Commerce publication that lists procurement invitations, contract awards and subcontracting leads.
COMMISSARY – Military Food Store
COMMISSARY RESALE – Commodities on the Procurement List sold for the individual use of patrons of Armed Forces Commissaries.
COMMITTEE – The Committee for Purchase From People Who Are Blind or Severely Disabled. The 15 members on the Committee are appointed by the President.
COMMITTEE ADD 5 FORM – A form used by NIB to advise the Committee on the number of man years of blind direct labor that will go into the production of a product being proposed for addition to the Procurement List.
COMMITTEE 403 FORM – This form is completed annually to establish an NIB-associated agency's status as a qualified agency for the blind. This form requests data on the 75/25 ratio, in addition to wages paid to blind employees on JWOD contracts..
COMMITTEE STAFF – This staff, directed by an Executive Director, provides the necessary administrative and technical support to the Committee.
COMMON CARRIER – A transportation line engaged in the business of hauling the persons or goods for compensation, and for all persons impartially.
COMPANY CULTURE – A system of values, beliefs, and behaviors inherent in a company. To maximize performance, top management must desire and create the necessary culture.
COMPLIANCE – An affirmative indication or judgment that the supplier of a product or service has met the requirements of the relevant specification, contract, or regulation; also the state of meeting the requirements.
CONFERENCE – A meeting between designated Senators and Congressmen to reconcile differences in companion Senate and House passed bills.
CONFORMANCE – An affirmative indication or judgment that a product or service has met the requirements of the relevant specifications, contract, or regulations; also the state of meeting requirements.
CONFORMITY – The fulfilling by an item or service of specification requirements.
CONGENITAL BLINDNESS – A state of blindness that exists from or develops shortly after birth.
CONTINUOUS IMPROVEMENT – Ongoing improvement of products, services, or processes through incremental or breakthrough improvements.
CONTRACT COMPLIANCE – Performing government contracts satisfactorily by meeting quality standards, delivery dates and other contractual obligations.
CONTRACT SUMMARY – A procurement document issued by GSA to suppliers and contracting organization. Identifies the contractor, address, product being purchased, time period, delivery terms, etc.
CONTRACTING ACTIVITY – The government purchasing or buying office for a particular commodity.
CONTRACTING OFFICER – Person with authority to enter into, administer, and/or terminate contracts.
CONUS – Continental United States
CORRECTIVE ACTION – Actions to eliminate the symptoms and root causes of identified problems.
Corrugated cardboard – Material composed of one or more sheets of fluted paper between flat sheets of paper used to make cardboard boxes for shipping containers and case packs. Frequently has the ITF-14 bar code symbol printed directly on the corrugate using the wet ink process.
COST – Dollar amount required to recover value of material, labor and burden involved in manufacturing or servicing. (The difference between this cost and the price received determines the profit or loss).l
CUSTOMER – The receiver of a product or a service provided by the supplier. Includes organizations or groups both internal and external to the supplier's organization.
Customer Care Department – This department is located in the NIB facility in Earth City, MO. It provides administrative support functions to the E-Commerce program and its customers. Its processes include the following customer service and program support functions, performed as required by the customers and the orders placed:
· answering questions about the JWOD.com web site
· taking and entering orders received by customers by phone, email, or fax.
· correcting and entering problem orders placed through the web site
· quoting pricing and delivery to verbal, written, and email inquiries
· researching and responding to customer order questions
· researching and responding to stock delivery status questions between the order fulfillment partners and the producing associated agencies
· arranging product returns from customers
· obtaining needed order information from customers
· obtaining proofs of delivery for orders shipped
· resolving customer complaints
· arranging product returns
CRP – Community Rehabilitation Program. These are community-based, nonprofit agencies that provide a wide range of services for people with significant disabilities, including providing employment and training for people with disabilities through contracts under the JWOD Program. This term is primarily used by NISH.
DA – Department of Army
D&B – Dun and Bradstreet. Publishes reports concerning financial status of companies of firms.
DCAS – Defense Contract Administration Service
DCASMA – Defense Contract Administration Services Management Area
DCASR – Defense Contract Administration Services Region
DCSC – Defense Construction Supply Center (Columbus, Ohio)
DD – Department of Defense Form (followed by the Number of the form being used [Example: DD250]).
DD1155 – Order for Supplies of Services/Request for Quotations
DD250 – Material Inspection and Receiving Report
DE – Development Engineer
DeCA- The Defense Commissary Agency. DeCA operates a system of nearly 300 grocery stores at U.S. military bases throughout the nation and around the world. These stores serve American military personnel; their families; retirees and other authorized users, such as the families of former POW's. At overseas bases, the stores make familiar American products available and are particularly vital in maintaining the morale of the troops and their families.
DEFAULT – A clause incorporated in federal government contracts that provides for termination of a contract because of the contractors actual or anticipated failure to perform its contractual obligations.
DEFECTIVE – A unit of product that contains one or more defects.
DELIVERY ORDER – Order for supplies/services placed against an established contract or with federal government sources of supply. A DD 1155 is used for this purpose.
DEPENDABILITY – The state of being counted on or trusted.
DESIGN REVIEW – A formal, documented, comprehensive, and systematic examination of a design to evaluate the design requirements and the capability of the design to meet these requirements and to identify problems and propose solutions.
DEVIATION (or Request for Deviation) – To be allowed to supply items not meeting specification requirements completely.
DEVIATION PERMIT – Written authorization, prior to production or provision of a service, to depart from specific requirements for a specified quantity or for a specified time.
DGSD – Defense General Supply Center (Richmond, Virginia)
DHS – Department of Homeland Security
DIRECT LABOR – All work required for preparation, processing and packaging of a commodity or work directly related to the performance of a service, excluding supervision, administration, inspecting or shipping.
DISABILITY – A physical or mental condition that interferes with the performance of a specific function.
DISBURSING OFFICE – A Government paying office.
DISC – Defense Industrial Supply Center (Philadelphia, PA).
DISPUTE – Concerns a question of fact arising under a contract and the performance thereof.
DLA – Defense Logistics Agency, located at Cameron Station, Alexandria, Virginia. The DLA supplies the nation's military services and several civilian agencies with the critical resources they need to accomplish their worldwide missions. The DLA provides wide-ranging logistical support for peacetime and wartime operations, as well as emergency preparedness and humanitarian missions.
DoD – Department of Defense
DoD EMALL – A web site established and maintained by the Department of Defense (DoD) that hosts many product catalogs. The EMALL hosts a JWOD catalog for NIB that is a subset of the JWOD.com main catalog. The DoD EMALL emails orders received off the JWOD catalog to JWOD.com Customer Care for processing and fulfillment.
DOL – Department of Labor
DOL WHD – Department of Labor, Wage and Hour Division. The Wage and Hour Division (WHD) is responsible for administering and enforcing some of our nation's most comprehensive labor laws, including : the minimum wage, overtime, and child labor provisions of the Fair Labor Standards Act (FLSA); the Family and Medical Leave Act (MSPA); the Migrant and Seasonal Agricultural Worker Protection Act (MSPA); worker protections provided in several temporary visa programs; and the prevailing wage requirements of the Davis-Bacon Act (DBA) and the Service Contract Act (SCA).
DOT – Dictionary of Occupational Titles. A comprehensive description of occupations and requirements.
DPSC – Defense Personnel Support Center (Philadelphia, PA)
DQ CONTRACTS – Definite Quantity Contracts in which the exact quantities and delivery dates are specified. These are different from the requirements contract or indefinite quantity contracts.
D&R – Develop and Relocate
DSCC – Defense Supply Center Columbus. The agency supplies weapon systems spare parts and end items and manages almost 1.8 million different construction and electronic spare parts.
DSCP –Defense Supply Center Philadelphia. The agency provides food, clothing and textiles, medical supplies and equipment and industrial supplies and services to government organizations.
DT&E – Development, Test and Evaluation
DTT – Develop, Train and Transfer
DUMMY NSN – A committee number assigned to a product bought by a Government agency and not assigned an agency identification number.
EAN/UCC 14 Data Structure – A 14-digit data structure composed of an Indicator digit, a Company Prefix, Item Reference, and a Check Digit.
EAN/UCC-14 ID Number – 14 digits that comprise the Identification Number for trade items.
EAN/UPC Symbols – Family of bar code symbols including UPC-A and UPC-E versions.
EC – The European Community. Member states have agreed to integrate their economies. Members include Belgium, Denmark, France, Germany, Greece, Ireland, Luxembourg, Netherlands, Portugal, Spain, and the United Kingdom.
EDI – Electronic Data Interchange. Refers to the computer-to-computer transmission of business information using a public standard format.
EEO – Equal Employment Opportunity
EEO #11246 – An Executive Order prohibiting discrimination in employment because of race, creed, color or national origin.
EEO #11375 – An Executive Order prohibiting discrimination in employment because of race, color, religion, sex or national origin.
EEOC – Equal Employment Opportunity Commission
EMPLOYED CLIENT – A person who is blind and receiving paid employment, placed by a rehabilitation service.
EMPLOYMENT STANDARDS ADMINISTRATION – Division of the Department of Labor that is responsible for Affirmative Action compliance in regard to federal government contractors.
ENCLAVE – A group of blind or other disabled people who regularly perform work in a separate part or department of an industry while under the management of a JWOD associated agency.
END ITEM(S) – An item including the components or parts that attach thereto. Example, a Kevlar helmet, with the leather headband and chin strap that attach to the helmet.
EPA – Environmental Protection Agency
ETS – Essentially the Same. A characteristic of a commercial product indicating that it is considered the same as a Procurement Listed item when reviewed using Committee guidelines.
EVALUATION AND TRAINING CERTIFICATES – Time limited certificates that require commensurate wages only for blind or disabled people who are engaged in identifiable evaluation or training program.
EXTENDED DELIVERY PRICING – A special pricing procedure approved by the Committee for orders with deliveries extended beyond six months from the date of order.
FACILITY SPECIALIST – An employee of the State Services for coordinating programs with private rehabilitation agencies.
FAIR MARKET PRICE (FMP) – Price determined for products or services by the Committee.
FAR – Federal Acquisition Regulation
FBO – Federal Business Opportunities. A listing of federal government's solicitations and awards.
FDA – Food and Drug Administration
FEASIBILITY ANALYSIS – The analysis of various factors involved to determine the manufacturing ability; economic feasibility and general desirability of producing a new item in a JWOD associated agency.
FPI – Federal Prison Industries. An organization similar to NIB and NISH that uses federal prisoners to manufacture goods for the federal government.
FED SPEC. – Federal Specification
FSS – Federal Supply Schedule. A summary of contracts established by GSA for supplies and services. Normally, a multi-award schedule is not applicable to the JWOD Program.
FEDERAL SUPPLY SCHEDULE CONTRACT – A contract established by GSA with a contractor for supplies and services at a stated price and for a given period of time. FSS provides using activities or customers copies of these contracts. Some are mandatory for use by the government agencies and others are optional.
FIIG – Federal Item Identification Guide
FIIN – Federal Item Description Number
FIRST ARTICLE – A sample of new product purchased by a customer to allow them to determine if it meets contracted specifications. Includes preproduction models, initial production models, initial production sample, test samples. May include first lots, pilot models or lots.
FIRST PARTY AUDIT – An audit of procedures or processes of an organization conducted by members of the organization.
FISCAL YEAR – NIB's fiscal year is from October 1 to September 30. NIB's associated agencies report all data at the end of each fiscal year.
FIXED RATE – A lump sum price not subject to adjustment.
FLOW CHARTING – A pictorial representation showing all the steps in a process. Useful tool for examining the various formats.
FLSA – Fair Labor Standards Act
FMP – Fair Market Price – Price to be paid by the government for products/services on the Procurement List.
FOB – Free on Board. The point up to where costs (including freight costs) are included.
FOIA – Freedom of Information Act
FREEDOM OF INFORMATION ACT (FOIA) – Requires the U.S. Government to release information to the public. (5 U.S.C. 552, as amended). However, certain privileged and confidential information is protected.
FSS – Federal Supply Service
FTE – Full Time Equivalent
G&A – General and Administrative (overhead costs)
GAO – General Accounting Office, an agency of Congress of the United States.
GBL – Government Bill of Lading
GCWB – The General Council of Workshops for the Blind (General Council). No longer exists.
GFM – Government furnished material (provided to contractors to use in performance of contracts).
GOVERNMENT SURPLUS – Materials no longer utilized by the Government (federal or state) and available, usually at reduced cost, to training programs and educational institutions of a nonprofit nature for training and teaching purposes.
GPO – Government Printing Office
GRADE – An indicator of category related to features or characteristics that cover different sets of needs for products or services intended for the same functional use.
GRATUITIES – Money or other items offered to an employee of the federal government, with a view of securing a contract. This is a violation of Public Law.
GSA – The General Services Administration, Washington and Regional Offices.
GSA Advantage – This is a web site established and maintained by the General Services Administration (GSA) which hosts many catalogs. GSA Advantage ties into the JWOD.com web site and sends orders it receives for some JWOD products to JWOD.com Customer Care for processing and fulfillment.
GSA CATALOG – The GSA Supply Catalog, which reflects most of the items GSA stocks in their supply system.
GSA FORM 1584 – A contract summary form that provides an abstract of pricing and other pertinent information applicable to requirement contracts for stock replenishment.
GSA FORM 1678 – Contract Delivery Status Report. Status report of orders and shipment.
GSA FORM 3186 – Order for Supplies or Services.
GSO – Greensboro Warehouse
GTIN – Global Trade Item Number. A GTIN may use the UCC-12 or EAN/UCC-14 data structures or the UCC/EAN-8 or UCC/EAN-13 data structures.
HAL-1 – Handicapped Assistance Loan; obtained through the Small Business Administration.
HANDICAP – A condition of impairment that interferes with normal life activity.
Haystack – A Defense Department report showing contract and sales history for individual National Stock Numbers (NSNs).
Hazmat – Hazardous Material. A Hazmat Base Supply Center is one that sells certain hazardous materials and pharmaceutical products.
HEARING – Committee sessions where witnesses present testimony reflecting the pros and cons of a particular area of interest.
H.K.I. – Helen Keller International
H.K.N.C. – Helen Keller National Center for Deaf Blind Youths and Adults
HUB system – A system used to capture point-of-service data from base supply centers (BSCs). The software was developed by a third party vendor who is also under contract to act as a middleman to collect data from the BSCs and provide gross results and national stock number (NSN) specific data to NIB. Less than 50% of the BSCs are supported by the HUB System.
IAW – In Accordance With
IE – Industrial Engineer
IEE – Individual Equipment Element. A BSC on an Air Force base that sells clothing and associated products is an IEE.
IFB – Invitation for Bid
IMP – Impulse Program. This is an NIB program that provides items to the Defense Commissary Agency for sale in commissaries For example, the customer did not necessarily come into the store for the impulse item, but is prompted to purchase when they see it hanging near something else they are purchasing.
IMPACT – An indication that a current vendor would be severely hurt financially if the JWOD program were to take over manufacturing a specific product
INCORPORATION BY REFERENCE – The application of certain clauses in a contract, however, they are not physically included other than by reference to the clause number and subject.
INDIVIDUAL CERTIFICATES – Certificates that permit an NIB associated agency to pay an employee less than the minimum wage when justified by the individual's severity of disability and production rate. May be as low as 25% of the minimum wage with state agency authorization.
INDUSTRIAL PREPAREDNESS – The state of preparedness of industry to produce essential material to support national military objectives.
INFLATION FACTOR – The amount added to the base price to cover anticipated changes in cost.
Inner Carton – Shippable cartons packed inside master shipping cartons that contain selling units. These can be taken out of the master shipping carton and reshipped individually for a smaller order quantity.
INSPECTION – Activities, such as measuring, examining, testing, gauging, one or more characteristics of a product or service, and comparing these with specified requirements to determine conformity.
INSPECTION PLAN – The method to be used in inspecting any lot. A minimal inspection plan includes a definition of the lot unit, sample unit, sample size and AQL.
INTERAGENCY – Coordinated procurement or supply support between Government Agencies, i.e., GSA and DLA.
INTERLEAVED 2 of 5 – See ITF-14 Symbol
INTERIM FED. SPEC. – A potential Federal Specification issued in interim form for operational use by federal agencies. Interim amendments to Federal Specification are included in the definition.
INTERNAL AUDIT – An examination of a company conducted by the company's own staff. A system of internal audits is required by ISO 9001 and ISO 9002.
INTERNATIONAL ORGANIZATION FOR STANDARDIZATION – Headquartered in Switzerland, an international organization of notional standards bodies that produces standards in many fields. ANSI is the United States member.
IPP – Industrial Preparedness Planning.
ISO – The Greek prefix for equal. The name given to a series of quality standards developed by the International Organization of Standardization in Switzerland.
ISO 9000 COORDINATOR – see Management Representative.
ISO 9000 SERIES STANDARDS – A set of five international quality standards developed by the International Organization of Standardization and adopted by countries around the world to help companies document their quality systems and maintain efficient quality management systems. Includes ISO 9000 – Quality Management and Quality Assurance Standards: Guidelines for Selection and use; ISO 9001 – Quality Systems: Model for Quality Assurance in Design/Development, Production, Installation and Servicing; ISO 9002- Quality Systems: Model for Quality Assurance in Products and Installation; ISO 9003 – Quality Systems: Model for Quality Assurance in Final Inspection and Test; ISO 9004 – Quality Management and Quality System Elements – Guidelines
IRS – Internal Revenue Service
IT – Information Technology
ITF SYMBOL – Interleaved 2 of 5 Symbology.
ITF -14 SYMBOL – ITF Symbol used in the UCC/EAN System to carry EAN/UCC-14 identification numbers.
JCP – Joint Committee on Printing. This Congressional Committee publishes paper specification standards.
JPID – A number the Committee uses to track projects.
JPRC – Joint (NIB an NISH) Priority Review Committee.
JULIAN DAY CALENDAR – A calendar used by military supply activities reflecting days of the year (through 365)
JWOD – Javits-Wagner-O'Day
KK PENDING FILES – Folders that hold all documentation sent to the committee staff for addition to the Procurement List and become KK project files. All such files have been moved to Girgis' office or are given back to SDS.
K-PERIOD – Contract Period.
K-VALUE – Contract Value in dollars.
LABOR LAWS – Various laws, the provisions of which may be included in government contracts. These include the laws on Labor Surplus Areas, Walsh-Healy, fair Labor Standards Act, Davis Bacon, Miller Act, Service Contract Act of 1965 and substantial unemployment.
LABOR SURPLUS AREA – A geographical area that is classed by the Department of labor as an area of persistent or substantial unemployment.
LABOR SURPLUS SET ASIDE – Procurement made on a partial set aside basis to aid depressed labor situations.
LATE BID – A bid received after the time designated as the time of opening.
LATE DELIVERY – Commodities or products delivered to the customer after the date specified in the contract.
LEAD AUDITOR – The senior member of a quality audit team.
LEAD TIME – The time in advance of a specific event or requirement. Usually concerns procurement of required materials, stock or equipment, in a timely manner before the need date.
LER – Locations Eligible for Reassignment. A listing of Base Supply Centers (BSCs) that have become available for reassignment. The list is distributed in NIB This Week the last Friday of each month.
LEVEL I DOCUMENTS – In the ISO system of documentation, Level I documents are statements of a company's quality management polices. Also referred to as the Policy Manual.
LEVEL II DOCUMENTS – In the ISO system of documentation, Level II documents ore detailed descriptions of procedures to be followed by departments.
LEVEL III DOCUMENTS – In the ISO system of documentation, Level III documents are work instruction – detailed instruction for performing a specific task.
LEVEL IV DOCUMENTS – In the ISO system of documentation, Level IV documents are records that verify compliance with instruction, procedures, or policies. Also called quality records.
LIABILITY – Usually concerns contractor's liability for Government property or material, and any losses thereof.
LINE ITEM – A single item listed on a contract or purchase order (usually reflects one NSN).
LIQUIDATED DAMAGES – The amount of money that is assessed against a contractor for each calendar day of delay in contract performance. Used when time of delivery or performance is such an important factor that the federal government may reasonably expect to suffer damages if delivery or performance is delinquent.
LOCAL PURCHASE – The procedure used by Government Activities to buy items or services at the local level, i.e., air base, camp, activity buying for local use only.
LOI – Letter of Intent
LONG TERM CONTRACT – Contracts that will have multiple deliveries over the term of the contract. Quantities and dates for deliveries are detailed on individual delivery or purchase orders.
LOW VISION SERVICES – The provision, through special examinations and fittings, of low vision lenses to individuals with enough residual vision to benefit from such lenses.
LWG – Legislative Working Group.
MAILING LIST APPLICATION – The form used by any organization to get on the bidders' list for procurement offices that buy their type of products or services.
MAKE-UP PAY – Monies paid by an organization to those employed clients who cannot achieve the minimum rate of pay indicated by the agency or certificate issued by the Department of Labor Wages and Hours Division.
MAINTAINABILITY – Ability of an item under stated conditions of use to be retained in, or restored to, within a given period of time, a specified state in which it can perform its required function when maintenance is preformed under stated conditions and while using prescribed procedures and resources.
MANAGEMENT REPRESENTATIVE – The person within a company who has the responsibility and authority for ensuring that the requirements of ISO 9000 standards are implemented and maintained. Also called ISO 9000 Coordinator.
MANDATORY – Usually refers to mandatory sources of procurement ( i.e., NIB, NISH, FPI, etc); certain federal supply sources.
MANYEAR – A unit for measuring labor/work time. One manyear generally equates to 12 man-months, 250 man-days or 2,000 man-hours but can vary depending upon the type of cost accounting/financial control systems that are in effect.
MARKET STUDY OR MARKET SURVEY – The accumulation of pricing data gathered from existing marketplace sources about a specific product. It is used to help price or to justify pricing for new or existing NIB product.
MASTER SOLICITATION – A procurement technique used by DPSC, DGSC, DISC, DCSC, where in they furnish the bulk of contract clauses and provisions on a one time basis to each contractor. Thereafter, they refer to it only and do not furnish the document in the instant procurement situation.
MAS – Multiple Awards Schedule
Master Carton – The main shipping carton containing inner cartons and / or selling units. May or may not have inner cartons.
MBP – Manager of Brand Packaging
MILITARY RESALE (MR) – Commodities on the procurement list sold for the private, individual use of authorized patrons of Armed Forces commissaries and exchanges, or like activities of other federal government departments and agencies.
MIL SPEC – Military Specification
MILSTAMP – Military Standard Transportation Movement Procedures
MILSTRIP – Military Standard Requisitioning and Issue Procedure
MIPR – Military Interdepartmental Purchase Request
MIRR – Military Inspection and Receiving Report
MOA – Memorandum of Agreement, a legal arrangement between two parties.
MODIFICATION – A change made to an IFB or contract.
MONETARY CONSIDERATION – Something of value given in return for a performance or promise of performance by another. Example: for the purpose of forming a contract or reducing contract price on an order in return for extension of the delivery date.
MOP – Method of procurement.
MOU – Memorandum of Understanding
MR – Military Resale
MR – Market Research
MSP – Monthly Supply Potential
MTM – Methods Time Measurement. A predetermined time standard system used by Industrial Engineers and NIB to determine average production rates for non-disabled employees.
MULTIDISABLED PERSON WHO IS BLIND – A legally blind individual who has a secondary disability which in and of itself interferes with normal life activities.
MULTIPLE AWARDS – A contract awarded to several contractors for the same item or product.
NABM – National Association of Bedding Manufacturers
NAC – National Accreditation Council for Agencies Serving the Blind and Visually Handicapped
NAEPB – National Association for the Employment of People who are Blind
NAF – Non-Appropriated Fund. Funds generated from sales/profits of the Armed Services Exchange System.
NAPS – NIB's internal database and application for static data for all NIB products, agencies, and services.
NARF – National Association of Rehabilitation Facilities
NATICK – The technical and research laboratory of the U.S. Army, Natick, Massachusetts
NATIONAL ACCREDITATION COUNCIL FOR CERTIFICATION BODIES (NACCB) – The British national approving body that authorized registrars to conduct third-party audits of companies.
NAS – Naval Air Station
NAVRESSO – Naval Resale and Services Support Office, Supervision for Navy Commissaries and Exchanges
N/C – No Cost
NCWC – National Council of Work Centers. This group, composed of representatives from NISH CRP's, serves as a leader and advocate for nonprofit agencies serving people with disabilities that participate in the JWOD Program.
NEGOTIATION – The deliberation, discussion, or conference upon the terms or a proposed agreement; the act, of settling or arranging the terms and conditions of a bargain, sale or other business transaction.
NEXCOM – Navy Exchange Commission
NEW PRODUCT INCENTIVE PROGRAM – The program authorized by the NIB Board of Directors that allows NIB associated agencies to retain the commission fee on the first six months of shipments of new Government-use products or services produced by an agency under the Javits-Wagner-O'Day program.
NFB – National Federation of the Blind
NIB – National Industries for the Blind
NIB ANNUAL REPORT – Required report completed by all associated workshops at the end of the Fiscal Year indicating overall ratio and other relevant data.
NISH – Formerly the National Industries for the Severely Handicapped. Sister organization to NIB, it is a central nonprofit agency operating under the Javits-Wagner-O'Day Program.
NISH CRP – This is the term used to describe NISH associated nonprofit agencies. As NIB uses the term associated agency to describe the independent nonprofit agencies that are associated with it, NISH uses the term CRP (Community Rehabilitation Program).
NLRA – National Labor Relations Act
NLRB – National Labor Relations Board
NLT – Not Later Than
NO-COST – A change to a contract, purchase description, or termination of a contract at no cost to contract parties
NON-AVAILABILITY – Not available from established suppliers.
NON-CONFORMANCE – the failure to comply with or fulfill relevant specifications, contracts, or regulations.
NON-DISCRIMINATION – Usually applies to the various labor laws, or Executive orders on hiring of personnel.
NON-RESPONSEVE – Usually a bid that does not comply with all parts of an IFB.
NONEXEMPT EMPLOYEE – A person who must be paid overtime pay (i.e., 1-1/2 times ther regular rate of pay, usually paid after 40 hours work).
NPA – Nonprofit agency.
NSN – National Stock Number. A product number assigned by GSA, much like a Stock Keeping Unit (SKU) or Universal Product Code (UPC).
NSC – Naval Supply Center
NSPB – National Society to Prevent Blindness.
OBE – Overtaken by Events
OFF THE SHELF – Items purchased commercially from suppliers on hand stock.
OFPP – Office of Federal Procurement Policy
OJT – On-the-Job Training
OMB – Office of Management and Budget (part of the Executive Branch)
OPENING OF BIDS – The time for the formal opening of bids received by the Government.
OPERATIONS MANUAL – A document detailing the production methods, set-up, purchasing and Quality Control procedures for a particular product. This document is intended strictly for internal reference.
OPTIONS – Procurement provision for the Government to increase quantity amount, or to extend the contract period of performance for a given period of time.
ORDERS – May be delivery orders and/or purchase orders received from a Government procuring activity.
ORIGIN – The source of materials. Also the point at which shipments originate.
OSD – Office of Secretary of Defense.
O.S.E.R.S. – Office of Special Education and Rehabilitative Services.
OSHA – Occupational Safety and Health Administration, part of DOL. OSHA's mission is to assure the safety and health of America's workers by setting and enforcing standards; providing training, outreach, and education; establishing partnerships; and encouraging continual improvement in workplace safety and health. OSHA and its state partners have approximately 2100 inspectors, plus complaint discrimination investigators, engineers, physicians, educators, standards writers, and other technical and support personnel spread over more the 200 offices throughout the country. This staff establishes protective standards, enforces those standards, and reaches out to employers and employees thought technical assistance and consultation programs.
OVERHEAD – Operating costs of a business that cannot be identified to a specific unit of production. Sometimes referred to as "burden" costs.
OVERSIGHT HEARINGS – Congressional hearing conducted by a Committee or Subcommittee of Congress with authority to oversee the implementation of a law or a program.
PA – Price Analyst
PAYING OFFICE – An office designated to make payments to contractors for Government work or supplies.
PC – Project coordinator.
PCER – Price Change Exception Request
PCO – Procurement Contracting Officer
PCN – Project Control Number. A number assigned by a JWOD Development Manager to all projects that are assigned to an nonprofit agency. It is used for identification and tracking purposes.
PDM – Product Demonstration Model. A product sample that the Federal customer may require prior to completion of a contract negotiation.
PDP – Project Development Plan. A tool to assist agencies in developing a plan for the manufacturing of a new product.
PDS – Product Development Specialist
PERFORMANCE RATING REPORT – (1) A report kept in an employee's permanent file that indicates reasons for any certified wage rates which may apply. (2) A report that evaluates a blind direct labor employee's performance and his/her ability to engage in competitive employment.
PERSONAL FILES – Non computer files maintained by an individual.
PERSONAL SYSTEM FILES – Files maintained on a non-shared drive of NIB system by an individual.
PIIN – Procurement Item Identification Number
PIN – Pre-Invitation Notice. An alert to bid on a product or service.
P.L. – Public Law. Legislation passed by both chambers of Congress and signed by the President or passed by Congress over a Presidential veto.
PLANOGRAM – Defines the locations within a retail store where specific items are to be located.
PL – Procurement List. The Committee for Purchase From People Who Are Blind or Severely Disabled maintains a Procurement List of products and services that have been placed in the JWOD Program, as referenced in FAR Subparts 8.0 and 8.7. Once a product or service is on the PL the Government must buy it from the organization designated by the Committee until the Government no longer has requirements for that item, or until a nonprofit agency employing people with severe disabilities can no longer furnish that item.
PMCIM – Product Marketing and Customer Information Manager
PMMR or MRPM – Project Manager for the Military Resale Program
POST EXCHANGE – A military retail store.
POS – Point Of Sale that refers to the retail-type checkout where EAN/UPC bar code symbols are normally scanned.
PPM – Packaging, Packing and Marking
PPP – Packaging, Packing and Preservation
PR – Public Relations
PREAWARD CONFERENCE – Conference held (if required) by the Government procuring activity with a contractor to ensure complete understanding of the tasks to be performed.
PREAWARD SURVEY – Survey conducted by the Government customer to determine a contractor's capability to perform and produce tasks to be performed.
PRELIMINARY ASSESSMENT – An examination of a company's quality assurance system against ISO 9000 to determine how close the company is to being in conformance with an ISO 9000 standard.
PREPOSITION STOCK – To place equipment or suppliers at or near the point of planned use.
PRE-PRODUCTION GUIDE – NIB associated agency manual delineating tasks to be accomplished in engineering a product in preparation of a Government Preaward Survey.
PRE-PRODUCTION PLAN – Results from the Pre-Production Guides Task accomplishments.
PREVAILING WAGE RATE – The wage rate that is prevailingly paid in an industry for a particular type of work.
PREVOCATIONAL TRAINER – A rehabilitation staff member responsible for upgrading the vocational strengths and eliminating the vocational weaknesses of an individual who is blind or severely disabled.
PREVOCATIONAL TRAINING (WORK ADJUSTMENT) – The process through which the strengths identified in vocational evaluation are upgraded and the weaknesses found in vocational evaluation are eliminated.
PRICING CRITERIA – Term frequently used to refer to the procedures established by the Committee for determining initial Fair Market Prices as well as for revising Fair Market Prices of commodities and services.
PRIORITY – A legislative/regulatory law under JWOD providing a priority system in the procurement of federal government commodities. The priority is extended to the Federal Prison Industries, NIB and NISH, in that order.
PRIORITIES – In the purchase by the Government of commodities including military resale, produced and offered for sale by JWOD associated nonprofit agencies, priority shall be accorded to commodities produced and offered for sale by NIB associated agencies.
PRIORITIES, ALLOCATIONS & ALLOTMENTS – A statutory requirement for contractors to use industrial priority ratings and allotment authority to support military procurement.
PROCEDURES – Level II Documents. Detailed guidelines describing how processes are to operate and how the various processes are to fit together.
PROCESS – A group of related activities that together create customer value. A set of interrelated work activities that are characterized by a set of specific inputs and value-added tasks that produce a set of specific outputs. People, equipment, materials, methods, and environment are parts of a process. A process can be contained within an organization or span several organizations.
PROCESS QUALITY AUDIT – An analysis of elements of a process and appraisal of completeness, correctness of conditions, and probable effectiveness.
PROCUREMENT LEAD TIME – The time interval in months between the initiation of the procurement action and the receipt of the first item into the supply system. It is composed of administrative and production lead time.
PROCURING ACTIVITY – Government purchasing or buying office for a particular commodity
PROCURING ADVISORY COMMITTEE – NIB and associated agency personnel who make marketing recommendations for the Military Resale Program.
PRODUCT LIABILITY OR SERVICE LIABILITY – A generic term used to describe the onus on a producer or others to make restitution for loss related to personal injury, property damage, or other harm caused by a product or service.
PRODUCT QUALITY AUDIT – A quantitative assessment of conformance to required product characteristics.
PRODUCTION LEAD TIME – The phase in the procurement cycle consisting of the time interval between the award of a contract and completion of manufacture of the item for the first scheduled shipment.
PRODUCT COST ANALYSIS – The process of documenting the cost of producing a product.
PRODUCTION SCHEDULING – The process of planning a manufacturing operation in order to produce items by the date needed.
PROPOSAL – Used in negotiations for procurement. Usually the contractor's price and method to be used to accomplish the task are required by the Government.
PROSTHESIS – An artificial device to replace a missing part of the body (i.e., glass eye).
PURCHASE EXCEPTION – A waiver or clearance granted by NIB when commodities or services on the Procurement List cannot be furnished to a procuring activity.
PURCHASE ORDER – A written agreement between buyer and seller for the procurement of supplies/services. The purchase order will generally include specifications, quantities, unit price, delivery schedules/distribution and terms and conditions.
PURCHASER – The receiver of product or service provided by the supplier in contractual situation.
Q-90 SERIES – The ANSI/ASQC Q-90 series of standards. The U.S. version of the ISO 9000 Standards.
QA – The Quality Assurance function by which the Government determines whether a contractor has fulfilled his contract obligations pertaining to quality and quantity.
QAR – Quality Assurance Representative (the inspector).
QC – Quality Control.
QE – Quality Engineer
QLL – Qualified Laboratory List (issued yearly by DPSC).
QPAS – Quality, Planning, and Agency Services department
QPL – Qualified Products List. The process by which products are obtained from manufacturers or distributors, examined and tested for compliance with specification requirements and then identified on a list of qualified products. Qualification is performed in advance and independent of any specific procurement action.
QUALIFIED NONPROFIT AGENCY FOR THE BLIND – An agency that has met the regulatory requirements to produce products and provide services to the federal government under the JWOD program.
QUALITY – The composite of all the attributes or characteristics, including performance, of an item or product.
QUALITY ASSURANCE – All those planned or systematic actions necessary to provide adequate confidence that a product or service will satisfy given requirements for quality.
QUALITY AUDIT – A systematic and independent examination and evaluation to determine whether quality activities and results comply with planned arrangements and whether these arrangements are implemented effectively and are suitable to achieve objectives.
QUALITY CONTROL – The operational techniques and the activities used to fulfill requirements of quality.
QUALITY ENGINEERING – That branch of engineering that deals with the principles and practice of product and service quality assurance and control.
QUALITY LOOP/QUALITY SPIRAL – Conceptual model of interacting activities that influence the quality of a product or service in the various stages ranging from the identification of needs to the assessment of whether these needs have been satisfied,
QUALITY MANAGEMENT – That aspect of the overall management function that determines and implements the quality policy.
QUALITY MANUAL – A document outlining the total quality assurance program to be incorporated in production of products.
QUALITY MEASURE – A quantitative measure of the features and characteristics of a product or service.
QUALITY PLAN – A document outlining the specific quality practices, resources, and activities relevant to a particular product, process, service, contract, or project.
QUALITY POLICY – The overall intentions and direction of an organization in regards to quality as formally expressed by top management.
QUALITY RECORDS – The Level IV documents that verify compliance with quality procedures and policies.
QUALITY SURVEILLANCE – The continuing monitoring and verification of the status of procedures, methods, conditions, products, processes, and services, and analysis of records in relation to stated references to ensure that requirements for quality are being met.
QUALITY SYSTEM – The organizational structure, responsibilities, procedures, processes, and resources for implementing quality management.
QUALITY SYSTEM AUDIT ( QUALITY PLAN AUDIT) – A documented activity performed to verify, by examination and evaluation of objective evidence, that applicable elements of the quality system are suitable and have been developed, documented, and effectively implemented in accordance with specified requirements.
QUALITY SYSTEM REVIEW – A formal evaluation by management of the status and adequacy of the quality system in relation to quality policy and/or new objectives resulting from changing circumstances.
QUALITY, RELATIVE – Degree of excellence of a product or service.
QUARTERLY COMPLIANCE REVIEW CHECKLIST – A report provided by the workshop indicating their quarterly overall JWOD ratios.
RANDOM SAMPLE – A sample selected in such a way that each unit of the population has an equal chance of being selected.
RATIO – The relationship between direct labor work hours and total direct labor work hours for a specified period of time. Expressed as a percentage, workshops must document that no less than 75% of all direct labor hours have been performed by legally blind persons.
REA – Requests for Equitable Adjustments. The process for obtaining settlement with a contraction officer for changed circumstances or terminations.
RECEIVING REPORT – A document or form used to record inspection and receiving of goods. Known as a military form DD250.
REGISTRAR – An organization authorized by a national approving body to perform third-party audits.
REGISTRATION – Also called certification. The process by which an accredited, third-party organization conducts an on-site audit of a company's operations to verify that processes, services, and product characteristics conform to ISO 9000 requirements. Upon successful completion of the audit the company receives a certificate indicating that it has met the standard requirements.
REGULATORY FLEXIBILITY ACT – Public Law 96-354 which requires consideration of alternate regulations designed to reduce the economic impact on small entities while achieving the objectives of the original law.
RFP – Request for Proposal. A procurement document used by a buying office.
REHABILITATION – The process through which a person who is blind or disabled, with specialized assistance, attempts to maximize his/her life potential.
RELIABILITY – The ability of an item to perform a required function under stated conditions.
RELIABILITY, NUMERICAL – The probability that an item will perform a required function under stated conditions for a stated period of time.
RELIABILITY ENGINEERING – That engineering function dealing with the principles and practices related to the design, specification, assessment, and achievement of product or system reliability requirements and involving aspects of prediction, evaluation, production, and demonstration.
REQUEST FOR PROPOSAL (RFP) – A procurement document used by buying office.
REQUEST FOR QUOTATION (RFQ) – A procurement document used by buying office. May be used for information purposes only, with no resultant contract.
REQUIREMENTS CONTRACT – A type of government contract which provides for government needs to by purchased during a specified period with deliveries scheduled by timely placement of orders upon the contractor.
RESERVATION LIST – A list that identifies the BSCs that have been assigned to a specific agency by NIB. It is sometimes referred to as the BSC Assignment List.
RESPONSIBLE BIDDER/OFFER – An offer against a Government requirement (stated in an IFB or RFP) by a bidder who has the requisite physical capacity and financial capability to provide the supplies/services offered.
RESPONSIVE BIDDER – An offer against an IFB or RFP that is not materially different from the requirement stated in the IFB. An offer of a product or service which does not conform to all essential characteristics of the IFB, or and offer that takes exception to the terms and conditions set forth in the IFB, may be rejected by the Government as non-responsive.
RSA – Rehabilitation Services Administration. Part of the Department of Education's Office of Special Education and Rehabilitative Services.
ROUGH FAIR MARKET PRICE (RFMP) – Rough estimates of price for preliminary development of a product.
SADBU – Small and Disadvantaged Business Utilization Office.
SAMPLE – One or more units of product drawn from a lot or batch; the units of the sample being selected at random without regard to their quality.
SAPC – Semi-Annual Price Change.
SATELLITE FACILITY – A facility that is a branch, or a satellite, of an existing associated nonprofit agency.
SBA – Small Business Administration
SCHEDULE – A part of a Government contract. Also, frequently used to describe the GSA Federal Supply Schedule.
SCOPE – Usually applied to that which is contained in a contract. This is, what is the written work of what the contractor is to do in his/her performance under the contract.
SDL – Services Development List. A list maintained by NISH identifying all service opportunities that have been reserved for either NIB or NISH.
SEALED BIDDING – A method of contracting that consists of four steps: the issuance of and IFB; sealed offers; public opening of bids; award to the lowest responsive responsible bidder.
SECOND-PARTY AUDIT – An examination of an organization conducted by the organization's client or customer
SECTION 8 (a) – The program under which government agencies contract with the SBA for products and services to be furnished under a subcontract by a small and disadvantaged business concern.
SELF-SERVICE STORE – A GSA store, where Government activities can purchase standard supply items.
SERVICE CONTRACT ACT – This statute requires various classes of service employees of a contractor to be paid the minimum monetary wage and specific fringe benefits. The Act also stipulates such services will not be performed under conditions that are unsanitary/hazardous to the health/safety of service employees.
SF – Standard Form. Identified by SF, followed by the number of the form being used (i.e., SF-33 or Standard Form 33).
SF-26 – Award/ Contract Document
SF-33 – Solicitation, Offer and Award Document
SHELTERED WORKSHOP – An antiquated term that used to describe an independent nonprofit agency that employs people who are blind and may also provide rehabilitation services. "Sheltered workshop" is not a term we use any longer. Rather, the appropriate nomenclature is "an NIB associated agency" or "nonprofit business."
SGA – Substantial Gainful Activity
SIPD – Stock Item Purchase Description. May alter requirements of contracts or federal specifications.
SKILCRAFT® – The registered trademark owned by NIB, representing quality, value and convenience. SKILCRAFT products and services are provided by talented people who are blind across the country.
SMALL BUSINESS SET-ASIDES – Policy of Congress that ensures a fair proportion of contracts for small business, provide for total or partial set-asides at the discretion of the procuring activity.
SKU – Stock Keeping Unit. An individual style /color/flavor or pack of a product that requires a separate ID number to distinguish it from other items. In inventory and identification systems, it represents the smallest unit for which sales and stock records are maintained. Different SKU's will have different GTN's associated with them.
SPECIFICATION – The document that prescribes the requirements with which the product or service has to conform.
SSA – Social Security Administration
O.A.S.D.I. – Old Age, Survivors, and Disability Insurance
S.S.D.I. – Social Security Disability Insurance. The part of O.A.S.D.I. that is applicable to disabled persons.
S.S.I. – Supplemental Security Income for the Aged, Blind and Disabled
STANDARD FORM 129 – Bidders Mailing List Application
STATE SERVICES FOR THE BLIND – The state agency that is responsible for providing vocational rehabilitation services to people who are blind (or visually impaired).
STATE SERVICES FOR THE DISABLED (GENERAL) – The state agency which is responsible for providing vocational rehabilitation services to people who have other disabilities other than blindness.
STATISTICAL PROCESS CONTROL – The application of statistical techniques to the control of processes.
STATISTICAL QUALITY CONTROL – The application of statistical techniques to the control quality.
STOP WORK – An order issued by Contracting Officer to stop work on a contract.
SUBCONTRACT – An agreement between a prime contractor and another party for the purpose of furnishing supplies/services that are necessary for performance of a government contract.
SUPPLIER – An organization that provides a product or a service to a customer.
SURVEILLANCE – Periodic monitoring of a company by a registrar conducted after registration. Purpose is to ensure that the registered company remains in compliance with standards. Includes site-visits by registrar approximately every six months.
SUSPENSION OF WORK – Stopping work or performance on a contract.
SUBSIDY – That part of an individual's wages above what is earned by actual production.
SYSTEMS – A group of related processes.
TCO – Terminating Contracting Officer
TERMINATION – A contract provision that gives the Government the right to cancel a contract.
TESTING – A means of determining the capability of an item to meet specified requirements by subjecting the item to a set of physical, chemical, environmental, or operating actions and conditions.
THIRD PARTY AUDIT – An examination of a company or an organization conducted by a group that is not associated with either the purchaser of supplier.
TOLERANCE – The allowable deviation from a standard.
TQM – Total Quality Management. A management approach to long-term success through customer satisfaction. TQM is based on the participation of all members of an organization in improving processes, products, services and the culture they work in.
TRACEABILITY – The ability to trace the history, application, or location of an item or activity and like items or activities by means of recorded identification.
TRADE ITEM – Any item, product or service upon which there is a need to retrieve predefined information and that may be priced, ordered or invoiced at any point in the supply chain.
TS – Time Study
TSA – Troop Support Agency (Army).
TTWIA – Ticket to Work Workforce Investment Act
UCC – Uniform Code Council, Inc, a membership organization that jointly manages the UCC/EAN System with EAN International. The UCC also administers the UCC/EAN System in the United States and Canada.
UCC -12 Data Structure – 12–digit UCC/EAN Data Structure composed of a Company Prefix, Item Reference, and Check Digit.
UI – Unit of Issue
UP – Unit Price
UPC – A Bar Code – Bar code symbol of the EAN/UPC Symbology that encodes UCC-12 Symbol Identification Numbers
UPWARD MOBILITY – The movement of a blind or multi-disabled person from his/her present position to a position that provides higher wages, status and/or responsibility.
UPS – Uniform Procurement System
USFS – United States Forest Service
USPS – United States Postal Service
VA – Veterans Administration
VA MARKETING CENTER – Veterans Administration Marketing Center, Hines, Illinois
VARIATION – The inevitable differences among individual outputs of a process. The sources of variation can be grouped into two major classes Common Causes and Special Causes.
VARIATION IN QUANTITY – An oversum or undersum of items delivered is permitted in certain procurement. Based upon normal commercial practices of a particular items. The permitted percentage should be no larger than necessary to provide a contractor reasonable protection.
VE CHANGE PROPOSAL (VECP) – A value engineering proposal initiated by a contractor or supplier, to make and item being produced for the Government by a better method and at less cost.
VERIFICATION – The act of reviewing, inspecting, testing, checking, auditing, or otherwise establishing and documenting whether items, processes, services, or documents conform to specified requirements.
VIM-ASAP- Virtual Item Manager-Apparel Research Network (ARN) Supply-chain Automated Processing (VIM-ASAP) system. A project funded by the DoD Manufacturing Technology Program and managed by DLA with support from DSCP and the military services. ARN identifies a potential problem, researches a process for improvement, plans how it will be implemented and forecasts what benefits can be expected after implementation. VIM-ASAP is a collection of Wed functions used by apparel manufactures to access contract information, track production status, correct data quality problems and facilitate payment of their electronically transmitted invoices.
VOCATIONAL EVALUATION – The process though which vocational capabilities of a person who is blind or otherwise severely disabled are examined, measured, and compared to average employees without disabilities..
VOCATIONAL EVALUATOR – A rehabilitation staff member responsible for examining and measuring the vocational potential of a person who is blind or otherwise severely disabled.
VOCATIONAL DISABILITY – A disability that constitutes a barrier to securing or obtaining regular employment.
VOCATIONAL REHABILITATION – The process through which a person who is blind or otherwise severely disabled attempts, with specialized assistance, to maximize his/her vocational potential and which leads to some level of employment.
VOCATIONAL TRAINING – The process through which a person who is blind or otherwise severely disabled is taught to perform a specific job or type of job.
WAGES AND HOURS DIVISION – BRANCH OF SPECIAL EMPLOYMENT – U.S. DEPARTMENT OF LABOR – That part of the Department of Labor that has responsibility for monitoring wage rates for people who are blind or otherwise severely disabled.
WAIVER – A decision by NIB, in coordination with the associated agency, not to put a specific item in production in any NIB associated agency.This term may also apply to changes or deviations to specifications or purchase descriptions.
WALSH-HEALY ACT – Requires contractors for supplies in excess of $10,000 to be a manufacturer or regular dealer and specifies such matters as minimum wages, maximum hours, child labor, convict labor and safe and sanitary working conditions.
WECOR – Western Army Commissary Region
W.I.M.A. – Writing Instrument Manufacturers Association
WORK ABILITY – A specific skill or ability which can be applied to a wide variety of jobs or work situations.
WORK INSTRUCTION – Level IV documents that describe in detail the steps of a particular task or procedure.
WORK RESTRICTION – A medically directed restriction in whole or in part of specific physical activities.
WORK SAMPLE – A simulated job or job element performed over a period of time and designed to measure a specific work ability.
WORLD-CLASS QUALITY – A standard of excellence: The Best of the Best.